Bae Doona (Hangul: born October 11, 1979) is a South Korean actress and photographer. She is best known outside Korea for her role as the protagonist's political activist girlfriend, Cha Yeong-mi, in Park Chan-wook's film Sympathy for Mr. Vengeance (2002) and as archer Park Nam-ju in The Host (2006).
Contents
* 1 Biography =
o 1.1 Filmography
+ 1.1.1 Films
+ 1.1.2 TV Dramas
+ 1.1.3 Theater
+ 1.1.4 Music Videos
o 1.2 Hosting
o 1.3 Discography
o 1.4 Bibliography
o 1.5 Advertisements
o 1.6 Awards
o 1.7 References
o 1.8 External links
Biography
Bae was born on October 11, 1979, in Seoul, South Korea. Growing up, she would follow her mother, Kim Hwa-young, a famous stage actress in Korea, around the theater and rehearsal halls, learning the lines of dialogue as she went along. This did not initially lead Bae towards acting, saying: "People might say that since my mother is a theater actor, I became an actress. But to me, those experiences probably had the opposite effect. On the contrary, because I saw many great actors working with my mother, I thought this was a job only people with extraordinary talent could do."
Bae attended Hanyang University until graduation in 1998. After leaving school, Bae was scouted by a model talent agency while walking in Seoul. This led to modeling clothing for COOLDOG's catalog, amongst others. In 1999 she made the switch to acting, debuting in the KBS TV drama School. Later the same year she appeared as Eun-suh in The Ring Virus, a Korean remake of the Japanese horror film Ring.
In 2000, director Bong Joon-ho cast her as Hyeon-nam in the film Barking Dogs Never Bite for her willingness to do the part without makeup, something other South Korean actresses were unwilling to do. She followed this with two more critical successes, 2001's Take Care of My Cat, directed by Jeong Jae-eun, and 2002's Sympathy for Mr. Vengeance, directed by Park Chan-wook.
2003 was less kind to Bae, as she saw both Tube and Spring Bears Love flop at the box office. After completing principal photography on Spring Bears Love, Bae decided to take time off from film, saying: "I never lived even once without having anything to do. The moment a film was presented to the press, I was almost always already shooting the next one ... I thought by myself: now my first cycle is really over. While I rest a little, I wanted to make a fresh new start.
In Kim So-young's documentary Women's History Trilogy (2000–2004), Bae notes her admiration for veteran South Korean actress Yoon Jeong-hee. Yoon returns the compliment saying "Bae Doo-na owns her world." In this same documentary, Bae shares how her own most memorable scene is being chased by the homeless man throughout the apartment in Barking Dogs Never Bite.
In her time off, Bae took up photography, much of which can be seen between her official blog and her published photo books. Bae finally stepped onto a theater stage in 2004, for a production of Sunday Seoul (not to be confused with the South Korean movie of the same title). The play was co-written by Park Chan-wook, whom she had previously worked with.
In 2005 Bae appeared in the Japanese film Linda Linda Linda, and in 2006 she worked with Bong Joon-ho again on The Host, currently the biggest grossing film in South Korean box office history.
In 2009-2010 she won accolades for Air Doll, a film by Japanese director Hirokazu Koreeda about an inflatable sex doll that develops a soul and falls in love. Filmography
Films
* The Ring Virus (1999)
* Barking Dogs Never Bite (2000)
* Plum Blossom aka Youth (2000)
* Take Care of My Cat (2001)
* Sympathy for Mr. Vengeance (2002)
* Saving My Hubby (2002)
* Tube (2003)
* Spring Bears Love (2003)
* Linda Linda Linda (2005)
* Tea Date (short, 2005)
* The Host (2006)
* Air Doll (2009)
Bae Doona
Bae Doona
Bae Doona
Bae Doona
Bae Doona
Bae Doona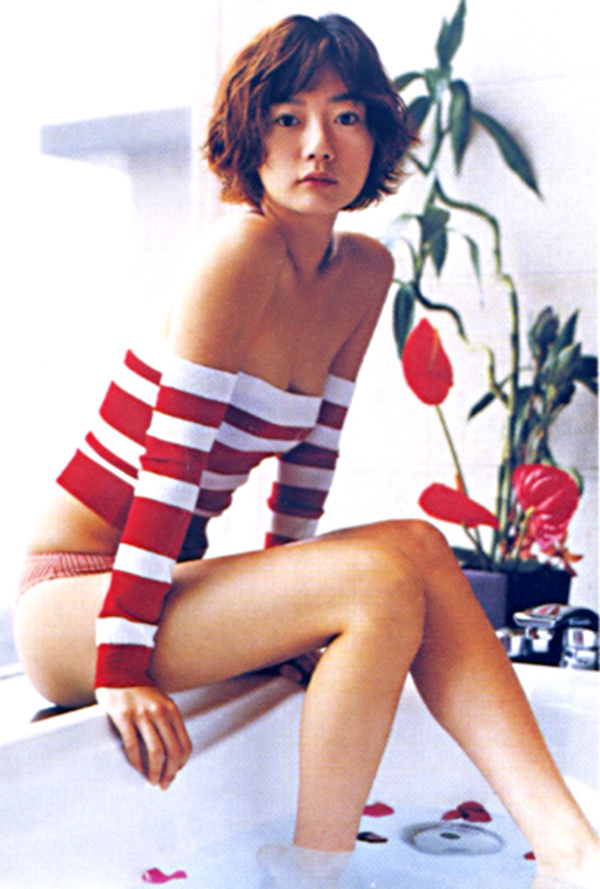 Bae Doona
Bae Doona
Bae Doona
Bae Doona
Bae Doona