ABBA was a Swedish pop music group formed in Stockholm in 1972, consisting of Anni-Frid "Frida" Lyngstad, Björn Ulvaeus, Benny Andersson and Agnetha Fältskog. They became one of the most commercially successful acts in the history of popular music, topping the charts worldwide from 1972 to 1983.
ABBA sold over 375 million records worldwide, making them the fourth best-selling popular music artists in the history of recorded music. They still sell two to three million records a year.[3 ABBA was the first pop group from a non-English-speaking country to enjoy consistent success in the charts of English-speaking countries, including the UK, the US, Canada, Ireland, South Africa, Australia and New Zealand. As well as reaching the top of the charts in different countries like Mexico, Argentina, Brazil, Colombia and Peru among others, the band also released a compilation of their hit songs translated into Spanish.
During the band's existence, Fältskog and Ulvaeus were a married couple, as were Lyngstad and Andersson - although both couples later divorced. At the height of their popularity, both relationships began suffering strain that led ultimately to the collapse of first the Ulvaeus-Fältskog marriage (in 1979) and then of the Andersson-Lyngstad marriage in 1981. In the late 1970s and early 1980s these relationship changes began manifesting in the group's music, as they produced more introspective lyrics with different compositions.
After ABBA split, Andersson and Ulvaeus achieved success writing music for the stage while Lyngstad and Fältskog pursued individual solo careers with varying success. ABBA's music remained steadily popular until several films, notably Muriel's Wedding and The Adventures of Priscilla, Queen of the Desert, revived interest in the group, spawning several tribute bands. In 1999, ABBA's music was adapted into the successful musical Mamma Mia! that toured worldwide and had a movie version released in 2008, becoming the highest grossing film in the UK at the time. The group was inducted into The Rock and Roll Hall of Fame on 15 March 2010.[4]
Contents
* 1 History
o 1.1 Before ABBA (1960s)
+ 1.1.1 First live performance and the start of "Festfolk"
+ 1.1.2 First record together "Hej, gamle man"
o 1.2 Forming the group (1970–1973)
+ 1.2.1 First hit as 'Björn, Benny, Agnetha & Anni-Frid'
+ 1.2.2 "Ring Ring"
+ 1.2.3 Official naming
o 1.3 Breakthrough (1973–1976)
+ 1.3.1 Eurovision
+ 1.3.2 Post-Eurovision
o 1.4 Superstardom (1976–1981)
+ 1.4.1 European and Australian tour
+ 1.4.2 Polar Music Studio formation
+ 1.4.3 North American and European tours
+ 1.4.4 Progression
o 1.5 Final album and performances (1981–1982)
+ 1.5.1 Last recording sessions
+ 1.5.2 Last performances
o 1.6 Breaking up
o 1.7 After ABBA
+ 1.7.1 Andersson and Ulvaeus
+ 1.7.2 Fältskog and Lyngstad
o 1.8 Revival
* 2 The Rock and Roll Hall of Fame
* 3 Success in the United States
* 4 Fashion, videos, advertising campaigns
* 5 Discography
* 6 Awards and nominations
* 7 Bibliography
* 8 ABBA-related tributes
* 9 See also
* 10 Notes
* 11 References
* 12 External links
History
Before ABBA (1960s)
Benny Andersson (born 16 December 1946 in Stockholm, Sweden) became (at age 18) member of a popular Swedish pop-rock group, The Hep Stars, that performed covers of international hits. The Hep Stars were known as "The Swedish Beatles"; they also set up Hep House, their equivalent of the Apple Corps. Andersson played keyboard and eventually started writing original compositions for his band, many of which became major hits including "No Response" that hit #3 in 1965, "Sunny Girl", "Wedding", "Consolation", all of which hit #1 in 1966.[5] Andersson also had a fruitful songwriting collaboration with Lasse Berghagen, with whom he composed his first Svensktoppen entry "Sagan om lilla Sofi" ("The Story of Little Sophie") in 1968.
Björn Ulvaeus (born 25 April 1945 in Gothenburg, Sweden) also began his musical career at 18 (as a singer and guitarist), when he fronted The Hootenanny Singers, a popular Swedish folk-skiffle group. Ulvaeus started writing English-language songs for his group, and even had a brief solo career alongside. The Hootenanny Singers and The Hep Stars sometimes crossed paths while touring, and in June 1966 Ulvaeus and Andersson decided to write a song together. Their first attempt was "Isn't It Easy to Say", a song later recorded by The Hep Stars. Stig Anderson was the manager of The Hootenanny Singers and founder of the Polar Music label. He saw potential in the collaboration, and encouraged them to compose more. Both also began playing occasionally with the other's bands on stage and on record, although not until 1969 did the pair write and produce some of their first real hits together: "Ljuva sextital" ('Merry Sixties'), recorded by Brita Borg and The Hep Stars' 1969 hit "Speleman" ("Fiddler"). Björn Ulvaeus and Agnetha Fältskog were married on 6 July 1971.
Andersson wrote and submitted the song "Hej, Clown" for the 1969 Melodifestivalen, the Swedish Eurovision Song Contest finals. The song tied for first, but re-voting relegated Andersson's song to second place.[6] On that occasion Andersson briefly met his future spouse, singer Anni-Frid Lyngstad, who also participated in the contest. A month later, the two had become a couple. As their respective bands began to break up during 1969, Andersson and Ulvaeus teamed up and recorded their first album together in 1970, called Lycka ("Happiness"), which included original compositions sung by both men. Their spouses were often present in the recording studio, and sometimes added backing vocals; Fältskog even co-wrote a song with the two. Ulvaeus still occasionally recorded and performed with The Hootenanny Singers until the summer of 1974, and Andersson took part in producing their records.
ABBA
ABBA
ABBA
ABBA
ABBA
ABBA
ABBA
ABBA
ABBA
ABBA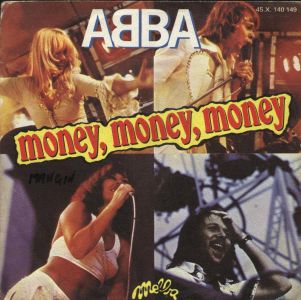 ABBA
ABBA
ABBA