Asking Alexandria are an English metalcore band from York, North Yorkshire. Founded in 2008 when Ben Bruce (lead guitar) contacted his old companions upon returning to England after residing in Dubai. The current line-up of the group consists of Ben Bruce, Danny Worsnop (vocals), Cameron Liddell (rhythm guitar), Sam Bettley (bass guitar) and James Cassells (drums).
Contents
* 1 History
o 1.1 Inception and debut album (2008–2009)
o 1.2 Reckless & Relentless (2010–present)
* 2 Band members
* 3 Discography
* 4 Music videos
* 5 References
* 6 External links
History
Inception and debut album (2008–2009)
Asking Alexandria have their roots in Dubai, United Arab Emirates, wherein guitarist Ben Bruce started a band and released one full-length album (titled The Irony of Your Perfection) with the group under the name Asking Alexandria. The band shortly afterwards broke-up and Bruce made a statement that at later date that the band known as Asking Alexandria from Dubai only had the name for about a month before leading to their disbandment, hence the band never embarked on a tour.
In 2008, Bruce moved back to England, leaving behind his former bandmates. However, Bruce had no plans on putting his musical career on hold and not long after the move he started fresh with new members, though deciding to carry on the name Asking Alexandria. Bruce has stated that he was the one that created this title, that he still liked it and the meaning/reason behind the name still remained, and therefore decided to continue it in the new project. He also made an emphasised statement in the same blog post that the current Asking Alexandria is not the same band that wrote The Irony of Your Perfection, in style nor members, hence they are two different bands, despite their links. The same statement has been emphasised in interviews and is known to still be a confusion to many fans.
Asking Alexandria, since their formation in 2008, has had some member changes, including going from a six-piece to a five-piece, with the departure of synthesist Ryan Binns. The last known change was bassist Sam Bettley, who replaced Joe Lancaster in January 2009.Lancaster played his final show at Fibbers in their hometown York on 4 January. band left for the United States the day after the show to promote their music through shows, as well as to prepare for the recording of their debut album.
After spending 2008 and the first months of 2009 touring, the band recorded their debut studio album between 19 May and 16 June 2009 at The Foundation Recording Studios in Connersville, Indiana, United States with producer Joey Sturgis. They announced their signing with Sumerian Records shortly after finishing the recording and released their debut album, Stand Up and Scream, on 15 September 2009 through their new label. The band spent 2009 focusing on gaining success in the United States, touring with well known bands such as Alesana, Enter Shikari, The Bled and Evergreen Terrace, amongst others.
asking alexandria
asking alexandria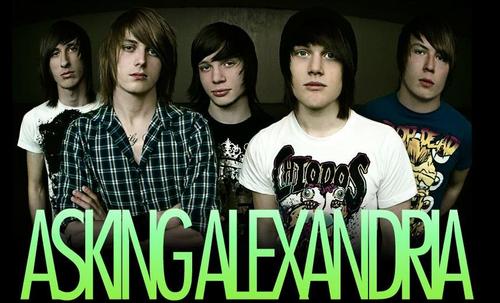 asking alexandria
asking alexandria
asking alexandria
asking alexandria
asking alexandria
asking alexandria
asking alexandria