Paula Deen born January 19, 1947 American cook, cooking show host, restaurateur, author, actress and Emmy Award-winning television personality.
Deen resides in Savannah, Georgia, where she owns and operates The Lady & Sons restaurant with her sons, Jamie and Bobby Deen. She has also published five cookbooks. Though married in 2004 to Michael Anthony Groover, she continues to use the surname Deen from her first marriage.
Contents
* 1 Early life
* 2 Books
* 3 Food Network
* 4 Personal life
* 5 Film debut
* 6 Awards and honors
* 7 Criticism
* 8 Filmography
* 9 References
* 10 External links
Early life
Paula Deen was born in Albany, Georgia. As documented in the Food Network special Chefography and on her official Web site, both her parents died before she was 23 and an early marriage ended in divorce. Deen suffered from agoraphobia and would not leave her house. She relied on cooking to help deal with her condition.[clarification needed] In 1986, she felt well enough to take a job as a bank teller. After that she and her sons moved to Savannah. In 1989, she divorced Jimmy Deen, to whom she had been married since 1965, and expanded her cooking experience into a catering service. She made sandwiches and other meals, which her sons Jamie and Bobby delivered.
Lady & Sons restaurant in Savannah, Georgia
The Bag Lady, as the business was named, was successful and soon outgrew her kitchen. On January 8, 1996, Deen opened her own restaurant, The Lady & Sons, in downtown Savannah, on West Congress Street. Within a few years, the restaurant moved to a larger building in Savannah's historic district. USA Today named The Lady & Sons the "International Meal of the Year," in 1999. The specialty is the buffet, which may include sweet potatoes, macaroni and cheese, deep-fried Twinkies, fried chicken, cheesy meatloaf, greens, beans, and creamed corn. Every meal comes with a garlic cheese biscuit and one of Deen's famous hoecakes. The restaurant is run by her sons when they are in town. The restaurant is a perennial favorite with tourists to Savannah.
Deen parlayed her fame into another restaurant, the "Paula Deen Buffet" at Harrah's Tunica Casino in Tunica, Mississippi. The entrance facade of the restaurant, which opened in May 2008, is modeled on Deen's home in Savannah and features Southern fare.
On September 1, 2009, Deen announced plans to unveil her own dessert line at Walmart featuring signature pies (Apple Crunch Top, Dark Rum Pecan, Old Fashioned Fudge and Gooey Butter Cake bars).
paula deen
paula deen
paula deen
paula deen
paula deen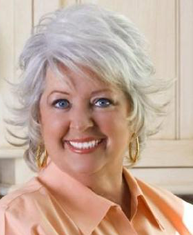 paula deen
paula deen
paula deen
paula deen
paula deen