Annelies Marie "Anne" Frank About this sound pronunciation (help·info); 12 June 1929 – early March 1945 is one of the most renowned and most discussed Jewish victims of the Holocaust. Acknowledged for the quality of her writing, her diary has become one of the world's most widely read books, and has been the basis for several plays and films.
Born in the city of Frankfurt am Main in Weimar Germany, she lived most of her life in or near Amsterdam, in the Netherlands. By nationality, she was officially considered a German until 1941, when she lost her nationality owing to the anti-Semitic policies of Nazi Germany (the Nuremberg Laws). She gained international fame posthumously following the publication of her diary, which documents her experiences hiding during the German occupation of the Netherlands in World War II.
The Frank family moved from Germany to Amsterdam in 1933, the year the Nazis gained control over Germany. By the beginning of 1940, they were trapped in Amsterdam by the Nazi occupation of the Netherlands. As persecutions of the Jewish population increased in July 1942, the family went into hiding in the hidden rooms of Anne's father, Otto Frank's, office building. After two years, the group was betrayed and transported to concentration camps. Anne Frank and her sister, Margot, were eventually transferred to the Bergen-Belsen concentration camp, where they both died of typhus in March 1945.
Otto Frank, the only survivor of the family, returned to Amsterdam after the war to find that Anne's diary had been saved, and his efforts led to its publication in 1947. It was translated from its original Dutch and first published in English in 1952 as The Diary of a Young Girl. It has since been translated into many languages. The diary, which was given to Anne on her 13th birthday, chronicles her life from 12 June 1942 until 1 August 1944.
Contents
* 1 Early life
* 2 Time period chronicled in the diary
o 2.1 Before going into hiding
o 2.2 Life in the Achterhuis
* 3 Arrest
* 4 Deportation and death
* 5 The Diary of a Young Girl
o 5.1 Publication
o 5.2 Reception
o 5.3 Denials and legal action
* 6 Legacy
* 7 See also
* 8 Notes and references
* 9 Bibliography
* 10 External links
Early life
Anne Frank was born on 12 June 1929 in Frankfurt, Germany, the second daughter of Otto Frank (1889–1980) and Edith Frank-Holländer (1900–45). Margot Frank (1926–45) was her elder sister.The Franks were liberal Jews, did not observe all of the customs and traditions of Judaism,[3] and lived in an assimilated community of Jewish and non-Jewish citizens of various religions. Edith Frank was the more devout parent, while Otto Frank was interested in scholarly pursuits and had an extensive library; both parents encouraged the children to read.
On 13 March 1933, elections were held in Frankfurt for the municipal council, and Adolf Hitler's Nazi Party won. Antisemitic demonstrations occurred almost immediately, and the Franks began to fear what would happen to them if they remained in Germany. Later that year, Edith and the children went to Aachen, where they stayed with Edith's mother, Rosa Holländer. Otto Frank remained in Frankfurt, but after receiving an offer to start a company in Amsterdam, he moved there to organise the business and to arrange accommodations for his family. The Franks were among approximately 300,000 Jews who fled Germany between 1933 and 1939.
A four story, brick apartment block showing the building's facade, with several windows and an internal staircase leading into the block.
The apartment block on the Merwedeplein where the Frank family lived from 1934 until 1942
Otto Frank began working at the Opekta Works, a company that sold fruit extract pectin, and found an apartment on the Merwedeplein (Merwede Square) in Amsterdam. By February 1934, Edith and the children had arrived in Amsterdam, and the two girls were enrolled in school — Margot in public school and Anne in a Montessori school. Margot demonstrated ability in arithmetic, and Anne showed aptitude for reading and writing. Her friend Hanneli Goslar later recalled that from early childhood, Frank frequently wrote, although she shielded her work with her hands and refused to discuss the content of her writing. The Frank sisters had highly distinct personalities, Margot being well-mannered, reserved, and studious, while Anne was outspoken, energetic, and extroverted.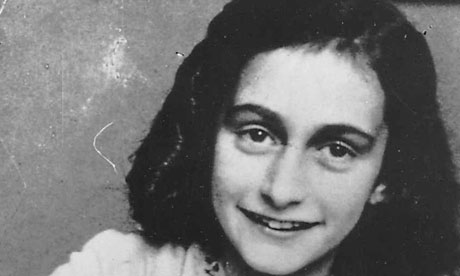 anne frank
anne frank
anne frank
anne frank
anne frank
anne frank
anne frank
anne frank
anne frank
anne frank
anne frank